Delivering Person Centred Care
Guided by Quaker Ethos and Values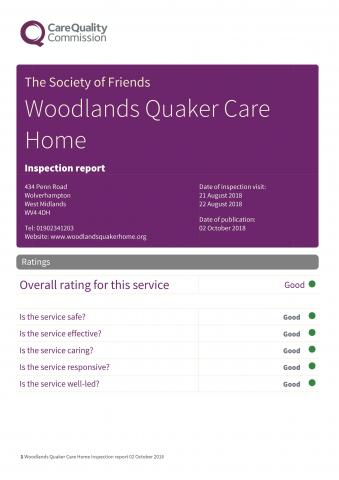 Woodlands is registered and therefore licensed to provide services by the Care Quality Commission Provider ID 1-101615363.
For more information visit www.cqc.org.uk.
Woodlands Quaker Home is a non-profit organisation providing accommodation and care for older people through housing and residential care.
The Main house with 36 residents, has served as a residential home since 1945 and is a Victorian listed building of charm and character and was originally the family home of Neville Hanbury Mander.
The Spinney located in the old stable block, is a 9-bedroomed self-contained unit for residents who have a severe dementia. Elsewhere in the same grounds is The Paddock, which comprises of 25 flats with support worker and care link system.
Woodlands has a welcoming and homely atmosphere with an emphasis on quality care, comfort and security in a residential setting which is very much involved with the local community.
Large, pleasant and well-maintained gardens surround all of the Woodland buildings. Wolverhampton City Centre is two and a half miles away and can be reached by a regular local bus service from the top of the drive. Village shops, a Post Office,Health Centre and an express supermarket are open daily and are all reached via a short walk through the well maintained formal gardens and woodland pathway.
We positively welcome the continued involvement of families and friends to complement the care we provide
The Grounds
The Woodlands is nestled within impressive grounds, which is home to a host of wildlife. Residents often explore the grounds to see what they can spot.
Find out more